Apartments Bohemia Rhapsody Carlsbad
Bohemia Rhapsody apartments is a luxurious accomodation located in the heart of Karlovy Vary, Stara Louka.
A historic building with 8 apartments of several types and sizes ranging from 40m² to 55m², is located between the world-famous Karlovy Vary colonnades just a few steps from the main healing spring known as the Spring 1 and opposite the historical buildings of the Municipal Theater and baroque the Mary Magdalene Temple. On the same promenade you will find not only countless restaurants, cafes and shops, but also direct access to the beautiful forest paths in the spa forests. Guests are provided with fully equipped and spacious apartments with a separate bedroom, living room, dining area and a fully equipped kitchen that combines modern and airy design, offering maximum comfort and privacy. Apartments are located in a historic building, which has undergone a sensitive reconstruction so that the first guests can be welcomed 30. 6. 2017.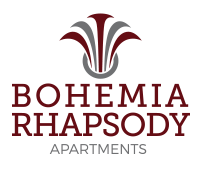 Bohemia Rhapsody Apartments, Bohemia Rhapsody Apartments Carlsbad